artist in residence
About Artist In Residence
The program aims to provide an opportunity for children and families to observe and interact with a professional artist. The program is open to artists working in a variety of media. Artists are chosen based on artistic merit and proven experience working with children and families.
Art and creativity are essential to the intellectual and emotional development of children. In addition to the obvious benefits, the Artist-in-Residence program achieves the following goals:

1. To expose children to unique and valuable opportunities to interact with people who make art for a living, thereby elevating the idea of artists as professionals.
2. To increases the value that children, families, and the general public place on art and the creation of art.
3. To make emerging artists' work more accessible to the public and increase opportunities for local artists to share their tales and processes.
4. To increase the value placed on children's artwork by continuing to make it an essential component of the museum.
5. To enhance the role of cMoe as a center of cultural investigation for families and children.
Please welcome our 2020 Artist In Residence: Theophilus Akai
He will be working with children teaching them the basics of music theory and will be writing songs while here. He will play his own original music as well as songs that most children will recognize.
---
About Theo: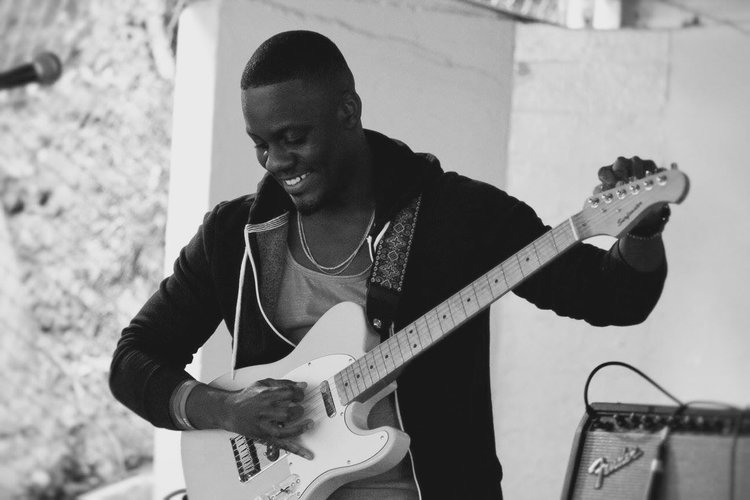 Theophilus Akai hails from Ghana, West Africa and has lived in multiple states in the U.S. His exposure to a variety of cultures has helped him hone his skills as a unique guitar player.
Theophilus has managed to spend many years touring with guitar in hand. Hard work and determination landed him a lead guitar role for Phillip Lawrence's album release show.
The skills and lessons Theophilus acquired along the way have now been transformed into the love of teaching. With the help of his God-loving wife and generous friends, Theophilus is now operating a local teaching studio under the name AkaiMusic. His love and passion for all things music can be observed on the smiling faces of every single student he teaches!
---
Artist In Residence program made possible by Wells Fargo