volunteering & internships
Volunteering
There are many volunteer opportunities at cMoe! Click on the "Sign Up!" for upcoming event volunteer opportunities.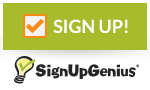 Interested in lending a helping hand on a regular basis? cMoe offers weekday and weekend opportunities to maintain and repair existing exhibits. This is the perfect chance to give back to a community based organization!
If you would like to volunteer for a program or event not listed, please contact Clay Prindle at 812-464-2663, ext. 228 or email at [email protected]. We strongly discourage "drop-ins".
Internships
cMoe partners with the University of Evansville, the University of Southern Indiana and Ivy Tech Community College to offer internships for course credit. Interns can experience a wide range of career-enhancing experiences at our museum. cMoe internship opportunities vary but typically include opportunities in Education, Marketing and Advertising, Event Planning, and Hospitality.