why play? children's museum leaders weigh in.
"Why Play? Children's Museum Leaders Weigh In."
Watch this recorded session on our Facebook & YouTube pages!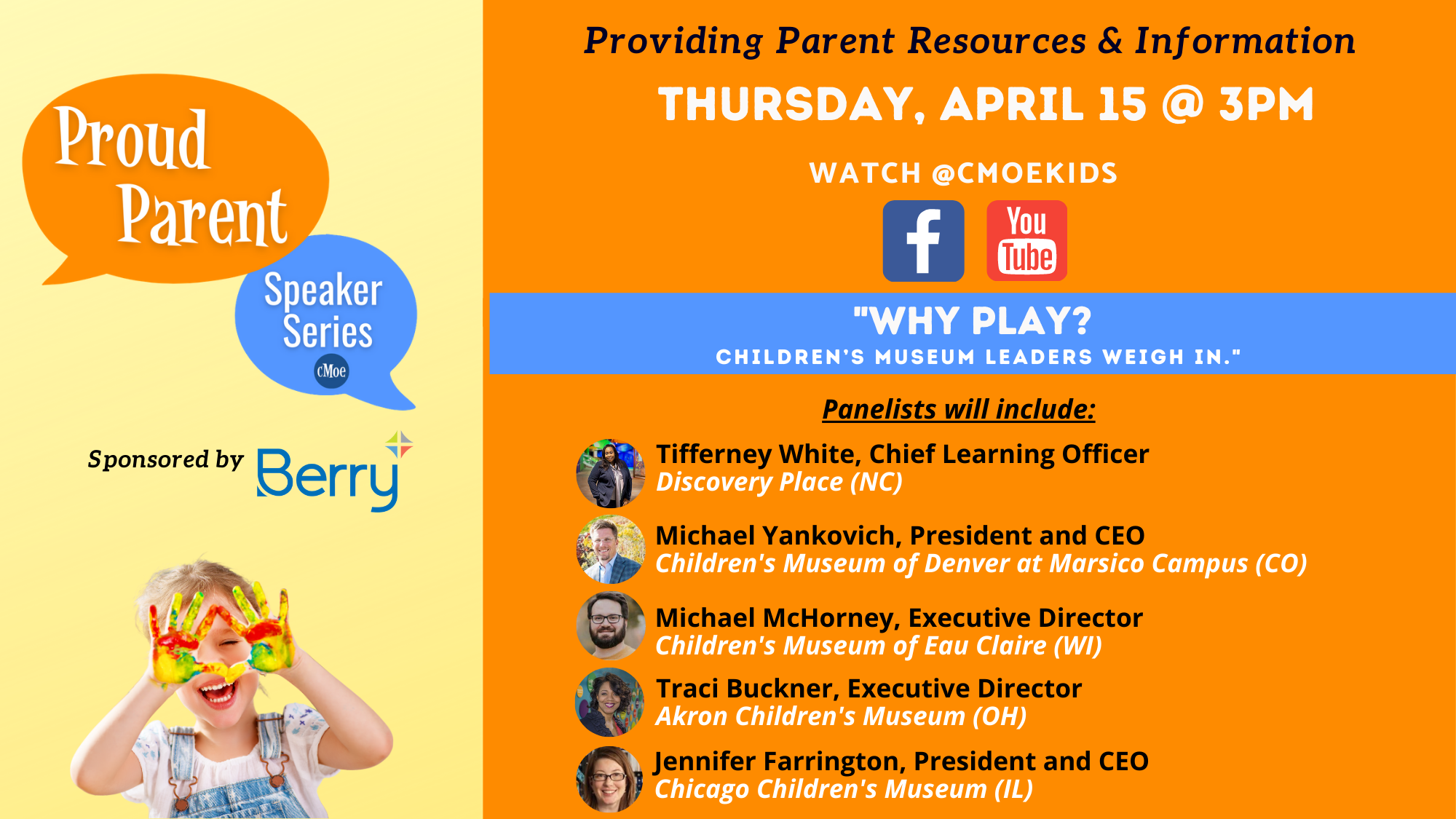 ---
Panelists will include:
Michael McHorney
Executive Director, Children's Museum of Eau Claire (WI)
Prior to his work with Children's Museums, he was in several leadership roles with Boys & Girls Clubs over a seven-year span. As an Executive Director, Michael oversaw the opening of the Boys & Girls Club of Fremont County. Michael is currently a member on the board of directors for the Celebrate Children's Foundation, Association of Children's Museums, and Eau Claire Confluence Arts Inc. Michael is married to Emilee, a social studies teacher at Memorial High School. Together, they have two children, Henry who is 3.5 years old and Archie who is 6 months old. He and his family reside in Eau Claire.
Tifferney White
Chief Equity and Innovation Officer, Discovery Place, Charlotte, NC
Tifferney White has spent her 25-plus year career leading or supporting science & technology centers and children's museums. Today, she is highly regarded due to her unwavering commitment to the mission of Discovery Place. She demonstrates exemplary leadership and possesses a deep and technical expertise in operations, education, program and exhibit experiences. Her adeptness in cultivating community partners is an asset in elevating the presence of Discovery Place and promoting it as a STEM and educational resource for the Charlotte region and its diverse communities. White currently works to elevate Equity and Innovation (leveraging diversity, inclusion access and justice) within all levels of leadership and staff focusing on professional and personal development of human capital, interrogating, and changing processes, procedures, and programs to reflect relevancy to the Charlotte region and its diverse and changing demographics. White holds a Masters of Business Administration, a B.S. in Chemistry and a B.A. in Psychology.
Traci J. Buckner
Executive Director, Akron Children's Museum (OH)
A distinguished educational leader and author, Traci Buckner is executive director at Akron Children's Museum, a vibrant, interactive children's play space located in the heart of downtown Akron. Buckner joined Akron Children's Museum after close to 20 years of service in the Akron Public School system, where she served in multiple roles, most recently as the founding instructional leader of the National Inventors Hall of Fame School…Center for Science, Technology, Engineering and Mathematics Learning and as the Director of Specialty Programs. Traci is an author of We All Make Tracks children's book and STEM Leadership, as well as a national speaker and community innovator, who has been featured as one of Akron's change makers in the AkronLife magazine.
Jennifer Farrington
President and CEO of Chicago Children's Museum
Jennifer's history with CCM began 30 years ago as an intern. After time teaching and working with various performing arts organizations, she returned to the Museum in 1995 to manage student and educator programs, leading to several roles in education over the next decade. In 2005, in partnership with Erikson Institute and Gyroscope Inc., Jennifer spearheaded the study, "Standards of Excellence in Early Learning", to set a course for CCM's future and make the museum a model of its kind in early childhood. In 2008 she became President and Chief Executive Officer. Inspired by her own experiences studying and making art, Jennifer is deeply committed to every child's right to play, free-choice learning, and self-expression, as well as advocating for equitable play and learning opportunities and creative experiences for all families. She serves on numerous boards and committees, including the boards of the Association of Children's Museums and Illinois Action for Children, and as a member of the After School Matters Advisory Board and the Mayor's Early Learning Council. She holds a B.A. from Columbia College and an M.Ed. from the University of Illinois at Chicago.
---
Sponsored by