visit us
cMoe is more than a children's museum! We are a leader in informal education and a convener for joyful learning experiences. We value the role we've played in connecting families and transforming communities over the past 14 years. We are committed to providing a safe and healthy place for children to learn, explore, create, and discover.
What to Expect
Read: Health & Safety Guidelines
How You Can Help Us
Read: Code of Conduct
We have taken these measures to provide an environment that is safe and enjoyable for everyone!
---
Our new hours are:
Tuesday through Saturday
9:00 am-11:00 am
11:30 am-1:30 pm
2:00 pm-4:00 pm
Sunday & Monday
CLOSED
RESERVATIONS ARE REQUIRED AT THIS TIME
Questions? Call 812-464-cMoe(2663) ext. 240 to check availability.
---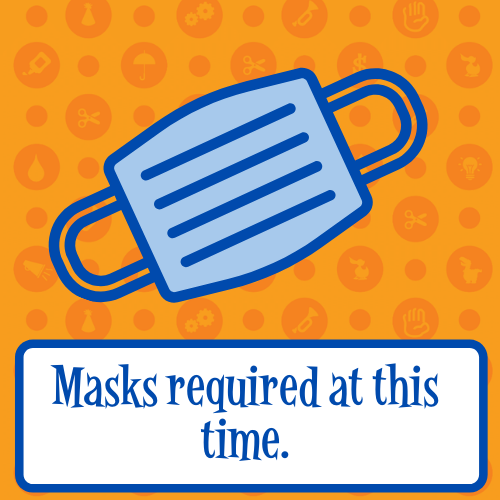 Mask Policy (Updated 4/5/2021)
While the statewide policy in Indiana will change on April 6th, The Children's Museum of Evansville will continue to require masks for visitors 3 years and up when visiting the Museum until further notice. As a place where multigenerational families come to play and learn together, we choose to err on the side of caution and will continue with our COVID-19 protocols. We are thankful that we've seen strong compliance with our current mask-wearing policy. We ask for continued kindness and understanding from our guests in our expectation of them to wear masks and comply with our policies while visiting us. We request all guests adhere to the COVID-19 guidelines we have in place while making memories at cMoe.
Learn more by visiting cmoekids.org/health.
---
Purchasing online tickets for current cMoe Members
*For members who have not registered on the website yet*
Click on the "Reserve Time Slot Today" option on the website. Reservation form should load onto another site.

Once on the reservation form site, locate the Sign In or Register options on the top right hand corner.

Click on the "Register" option.

cMoe Members should then complete the registration form using the same information they gave the museum when completing their initial membership form (If unsure about information used, the member should call the museum for assistance.)

Once the form has been completed, click on Register.

cMoe Members should then be able to book a time slot without having to pay.
If a problem persists, calling the Museum at cMoe(2663) ext. 240 for assistance is encouraged.
---
ACM Reciprocal Network
cMoe is a participating member of the ACM Reciprocal Network. If you are visiting from out of town and have a Reciprocal Level Membership, please call 812-464-cMoe(2663) ext. 240 prior to your visit in order to receive your ACM Reciprocal Discount.
---
Exhibit Closure Updates
Exhibit areas that will remain closed for safe social distancing include Upper Quack Factory.
Thank you for your patience and understanding at this time!
---
By scheduling your visit, you agree to assume all the risks and accept sole responsibility for any injury to your child or yourself or illness including COVID-19. You understand that cMoe cannot guarantee that you or your child(ren) will not come into contact or become infected with COVID-19. Understanding these risks, you willingly choose to participate in any and all cMoe services and activities. You agree to release, covenant not to sue, discharge, and hold harmless the museum and its employees and volunteers.